Pre-printed Labels Overview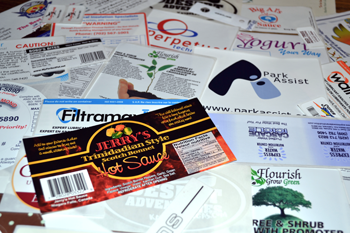 Labels come pre-printed, partially printed, or blank. Pre-printed labels are ordered when users need labels with a non-variable data printed on them. That can be a company logo, contact details, return address for shipping labels, some kind of warning, barcodes, any visual representation, etc.
Fully pre-printed labels contain constant information printed on them and nothing is added at a later date, while partially pre-printed labels contain constant info with blank space for additionally printing variable data. Partially pre-printed labels can contain words such as: "Best before date", "Product code", "Company address", "Serial number", etc. The users need to print the information that follows these "titles".
Fully pre-printed labels are easy to use, because the only thing you need to do when you receive them is – to apply them on your product. With partially pre-printed labels users need to have some sort of printing device for printing additional variable data. For these applications people usually use thermal transfer or laser printers.
Business owners often use pre-printed labels, even when they have their own printing system, because pre-printed labels cost can be lower than the cost of purchasing blank labels and printing them on one's own. The good news is that pre-printed labels can come in any color, design, shape, and on any label material you desire. All these elements should be carefully considered when ordering a pre-printed label, so that you can provide the best possible label solution for your application.